Is your child at that stage already? With little kids staying at home and spending more time inside, an arts and crafts table sounds like just the thing they need. If you are currently searching for a table for your toddler or perhaps looking to make a gift, you are in the right place. Below we'll be sharing different arts and crafts tables for toddlers for your consideration.
Art table for kids is a place where kids learn and have fun with painting and coloring activities; therefore, a versatile learning table is the first choice of families to get gifting. These tables are great to get them entertained other than your phone; even cooler, you can keep their little works of art well stored.
With numerous options in the market, things may seem a bit confusing, especially if you are new to tables for toddlers and have no idea what to look for. Do not panic before investing. Doing your due research is sings that you are in the right direction. Keep scrolling down as we show you different fun and affordable arts and crafts tables for toddlers.
Arts and Crafts Tables for Toddlers FAQ
Do kids need an activity table?
Activity tables are specially designed to help develop your baby's cognitive and fine motor skills. They stimulate the senses while providing a space for your baby to acquire new knowledge. They allow children to exercise their manual dexterity, strengthen the muscles in their hands, and have fun all at the same time.
How to set up an art area for your child?
It would help if you started setting up an art table for your kid. It's the best way to organize all the items necessary for the kid's art area by keeping everything they need in one place. Make enough space for your child to paint or draw. Setting up an easel is an excellent idea since kids do their best artwork standing up.
When should my toddler get an art table?
According to pediatrics experts, although there's no specific age, it's best to encourage kids to express themselves through art early on. These activities stimulate kids' brain functions and teach them more about shapes, lines, etc. Skill will also increase children's confidence, creativity, problem-solving, and decision-making.
What size should a toddler table be?
For toddlers up to 4 years old, the standard table height is 20 to 22 inches. For children age 5 to 7, a table 22 to 25 inches high is standard; 24 to 29 inches is typical for a table for 8- to 10-year-olds.
What are the valuable features of a kid's art table?
The most helpful feature of a kid's art table with storage is height adjustability, both when it comes to vertical height and the possibility of changing the angle of the table surface. This will allow your children to enjoy their kid's art table for more years as they grow up and to find the perfect angle for different activities without incurring an uncomfortable posture.
Since colors and paint will undoubtedly be involved, you should also choose a table with a surface that won't stain, whether a whiteboard, chalkboard, or a coated wood finish.
If you think your kids will mainly use it to paint, consider looking for a table with cupholders to prevent spillages.
Also, don't forget to choose a kid's art table with storage that can contain all the art supplies and keep them organized.
What type of storage for a kid's art table is there?
There are quite a few options for kids' art tables with storage. Some have storage space for art and creative supplies underneath the table, while others contain bins that stack away underneath or around the table and can be easily accessed when needed.
The storage underneath the table will be great for storing paper or things that the child needs to access less frequently. In contrast, bins or containers around the table are perfect for storing crayons, pencils, and other items that the child requires constant access to while creating their masterpieces.
There are also kids' tables with storage options underneath the chairs or behind the chairs.
Ultimately, the choice you make will depend on the purpose of the table and the size of the room you will be using it in.
What to look for when choosing Arts and Crafts Tables for Toddlers?
Table type: Look for a table with drawers, shelves, and modules where all the crafting supplies can be stored and organized.
Shape: Tables come in all figures, and activity tables are no different. The most common ones are rectangular, square, or round. These tables are versatile and easy to incorporate into various spaces and layouts. Round tables are best if the kids are doing a lot of group activities because they get to share the area more easily.
Size: Two kids could comfortably share an 18''x 48″ or 20''x 24″ table, and you can scale this up for bigger groups. Small square tables can be placed side by side and combined to accommodate groups of kids more easily.
Material: The best materials are the ones that are easy to clean, durable and safe at the same time. In that sense, consider plastic and laminate tables. For crafting, a table that can last for years to come, one made of metal might be a good choice.
Arts and Crafts Tables for Toddlers
The KidKraft Art Table with Drying Rack & Storage will be the creative center of any playroom. Made of wood with a natural-colored finish, it houses everything a budding artist will need to unleash their creativity.
A roll of art paper mounts under the table feeds through a slot, and fastens to the tabletop for a secure work surface. Or, use the flat area for testing out new slime recipes. It's just their size and keeps the mess off your kitchen table.
Kids can stand at the table to do artwork, or they can pull up a chair or stool for more intensive projects. Sealable spill-proof cups keep paint fresh and where it belongs, and built-in storage bins on both sides hold supplies so that little artist can clean their workspace.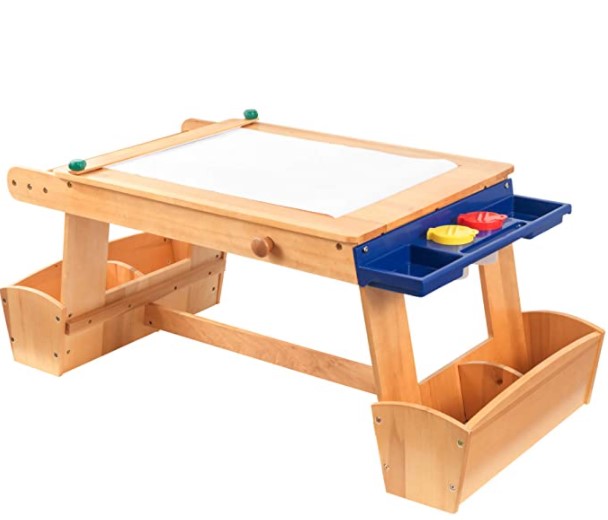 Features:
Rectangle
Wood Composite
Expansive
This kids' art desk is a sturdy art studio with tons of storage and a desktop space to create a variety of masterpieces. The Deluxe Art Master Desk features a raised shelf and vertical side bins to hold art supplies, sketchbooks, paper, and other artist essentials.
Little artists can push the light to illuminate their workspace for more complex projects. Wipe the durable plastic surfaces clean for a quick way to tidy up.
The bonus space below the hinged desktop whiteboard is ideal for keeping finished artwork, and other essentials close.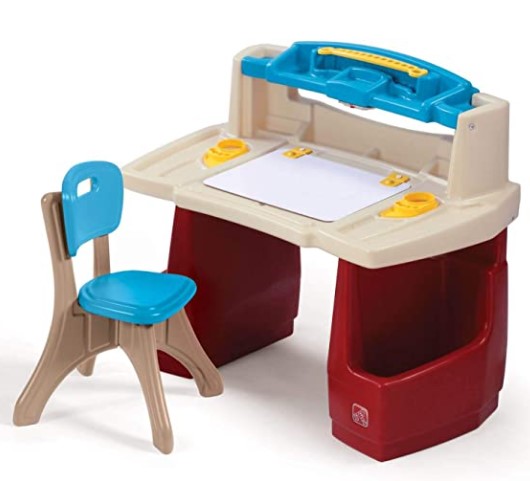 Features:
Rectangular
Built-In Storage
Easy-Clean Surface
ALEX Toys Artist Studio Super Art Table Black is a great way to introduce children to the creative world of art. Using the Super Art Table, your child will be encouraged to draw, paint and express their creativity. My toddler's creativity helped me when I needed to tell my husband we were expecting our second child, which we included in our Pregnancy Reveal to Husband Ideas.
Having their own space to create and store their art supplies, they will learn the valuable skills to become more talented at arts and crafts as a whole.
This solid wood table with artist print is easy for adults to assemble and includes two matching benches. The chalkboard tabletop surface features a paper cutter, recessed cup holes, cups, and a printed canvas storage bag.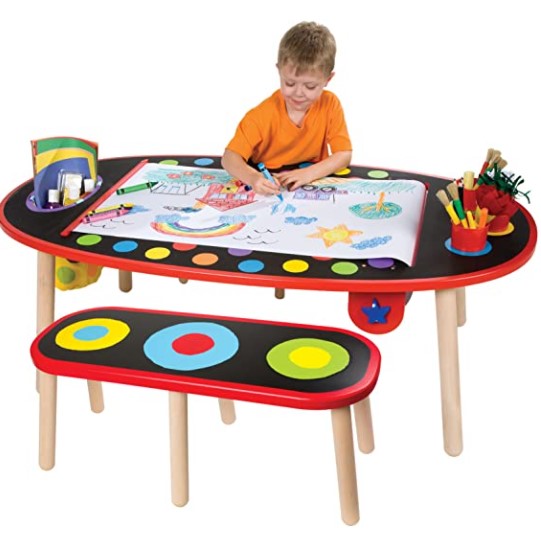 Features:
Wood
Oval Shape
2 Benches
The KidKraft Chalkboard Art Table with Stools will be the creative center of any playroom. A roll of art paper mounts under the table feeds through a slot, and fastens to the tabletop for a secure work surface.
A trio of sealable spill-proof paint cups keep paint fresh and where it belongs, and a mesh storage compartment holds supplies, so little artists can keep their workspace clean.
A chalkboard coating covers the entire tabletop for a sleek look that kids and parents love. Two bright, kid-sized stools are included with this set.
Features:
Chalkboard Table Top
3 Spill-Proof Paint Cups
Durable Construction
My Art Desk provides an inspirational space for children to create and have fun. A dream desk for aspiring young artists, it features an adjustable tilt top surface that makes drawing and painting more comfortable for little ones.
The tilted surface is carefully designed to prevent pinched fingers and is made of chalkboard material, so the creativity doesn't have to stop even if there's no paper.
This distinctive, durable hardwood "Creation Station" also features four recessed cups to hold art supplies and a paper cutter that does double duty as a rest to prevent pencils and brushes from rolling away.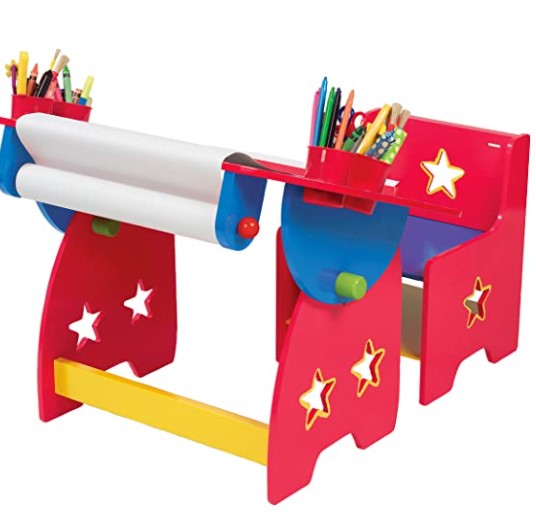 Features:
Rectangular
Tabletop
Wood
This fully equipped kids' art station with tons of storage space keeps supplies within reach for everyone, no matter the station they're working at.
The double-sided easel has a chalkboard on one side and a whiteboard for dry-erase markers on the other. The durable plastic construction makes clean-up easy; wipe down the art station, so it's ready for next time.
The molded-in bench seat lets kids sit down as they draw on the whiteboard desktop and keep extra items close in the storage space underneath.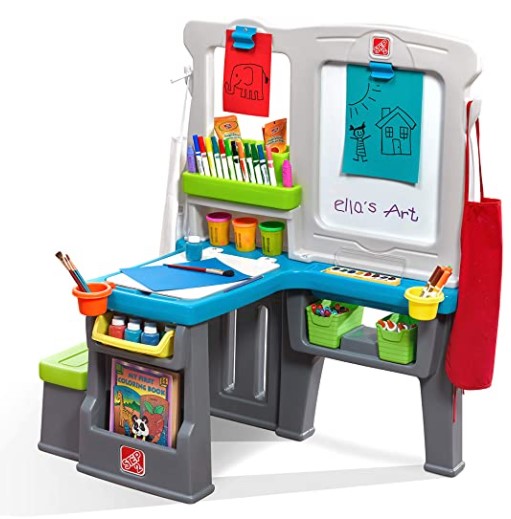 Features:
Ample Storage Space
Art Easel Station
360-Degree Design
The multifunctional drawing table with a chair can be switched between a table and a standing drawing board. The sliding tabletop allows you to adjust the tabletop angle range from 0 to 90° as needed.
It can be either a flat table for learning or a vertical drawing board for painting. This drawing board table is designed with many slots to provide larger storage space for your child.
There are three small slots on the tabletop for painting and painting accessories, such as the included markers and eraser. With two large slots, the bottom is used to store books, toys, and so on.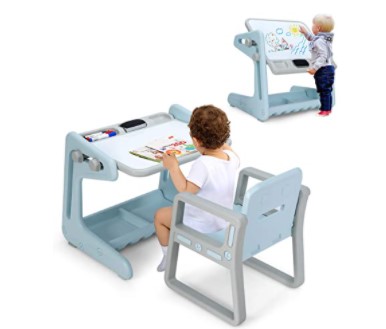 Features:
Ample Storage Space
Odorless HDPE Material
Magnetic Tabletop
If you have a young daughter, but arts and craft is not her thing, maybe they are not interested, but you are still looking for a great toy, then perhaps search for the Best Dollhouse for 2-Year Old.