Do you need to clean your air conditioner vents at home? If you've ever tried it before, you know that there's a right and a wrong way to clean conditioning ducts. If you aren't sure about what you are doing, you could end up making things worse, and nobody wants that. This is precisely why we'll be sharing with you all you need to know about how to clean air conditioning ducts the right way.
Dirty air conditioning is a problem itself and can cause all kinds of headaches, such as weird odors and an unhealthy environment. You may not think this is something you need to know, but learning this skill can save you money and time, which is why it's important to understand how to clean air conditioning ducts properly.
Contrary to what you may imagine, cleaning your A/C ducts isn't that much of a complicated task. That said, it is important to follow key steps that will allow you to get back about your day with ease. You have come to the right place if you are new at cleaning your air conditioning. In this guide, you'll find out everything you need to know to make sure your air conditioning works as it should. Continue reading and learn different and effective ways to clean air conditioning ducts.
How to Clean Air Conditioning Ducts FAQ'sWhat happens if you don't clean your air ducts?
Over time, without proper air duct cleaning and maintenance, the moisture will start to grow mold and mildew. If you have moldy air ducts, that mold will be blown all through your home or business. Not only is this going to create a musty, unpleasant smell, but eventually, people will start to get sick.
Why does my house get so dusty?
Dust accumulation in your home is a product of airflow, either because too much dirty, dust-filled air is floating around your home or because not enough air is spreading through the house, allowing dust to settle.
How do I know if my air ducts need to be cleaned?
Have your air ducts cleaned if they are visibly contaminated with substantial mold growth, pests, or vermin or clogged with significant dust or debris deposits?
How often should air ducts be cleaned?
According to the National Air Duct Cleaners Association, homeowners should have their air ducts cleaned every three to five years. Still, the timing depends on the region in which you live, how often you use your HVAC system and whether you have family members that have respiratory problems.
How do you check for clogged air ducts?
A specific duct may be clogged if there's no improvement. From there, you can inspect your ductwork by first unscrewing the vent covers and checking behind the vent grille for debris. Use a flashlight to check the inside of the ducts, taking note of any damage around the seams and making sure the dampers are open.
Can you clean your air ducts yourself?
Cleaning air ducts is not a do-it-yourself job when it comes to the nitty-gritty. It requires tools, such as a high-powered vacuum and rotary brushes, that you don't have to lie around in the garage. In addition, an improper cleaning job could damage the ducts, resulting in expensive repairs.
As you might expect, it can be pricey to turn to the experts; so, if there's no real need to do so, you might find yourself spending money unnecessarily. Clogged ducts can also apply when you are trying to clean the bathtub drains.
How much does it cost to clean air ducts?
Generally, duct cleaning costs range from $25 to $30 per vent cleaning, and you will have to pay separately for return vent and unit cleaning.
How to Clean Air Conditioning Ducts
Equipment
Vacuum with a hose
Screwdriver
Dish soap
A scrubbing brush
Gloves
Bucket
The BISSELL Zing Bagless Canister Vacuum makes it easy to remove powerful mess from one room in your home to another.
It features cyclonic technology that provides powerful, continuous suction across carpets and hard floors. Speaking of carpets would you be interested in reading how to clean urine from carpet?
The compact and lightweight design and swivel steering make maneuvering around furniture and between rooms a snap. The Easy Empty Dirt Cup provides mess-free, bottom-tank emptying to keep dirt off of your hands.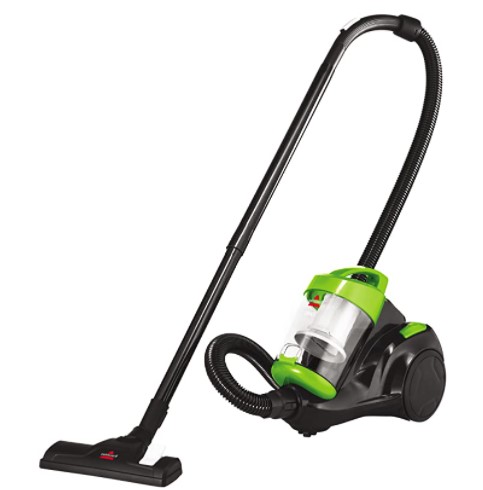 Features:
Multi-Surface Floor Tool
Crevice Tool
Dusting Brush
12-in-1 magnetic ratchet screwdriver for quickly tightening and loosening screws; ideal for working on popular electric appliances, like air conditioners, washing machines, refrigerators, TVs, and more.
DDriver's3 settings include fixed, forward, and reverse; the driver's free-spinning base allows for turning the handle while easily maintaining consistent pressure.
They are made of chrome vanadium steel that has been heat-treated for hardness; a corrosion-resistant finish for added strength.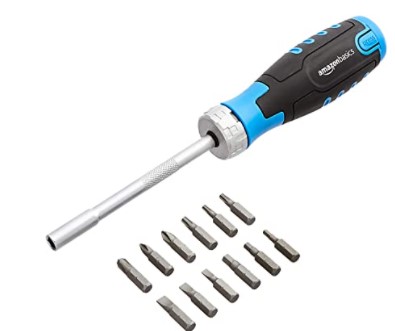 Features:
Non-slip handle
Chrome Vanadium Steel
If you're looking for the PERFECT PAIR, look no further. Get your ultimate clean and be the kitchen hero with the Grease Cleaning power of Dawn dish soap paired with the Dawn Non-Scratch Scrubber Sponge.
Dawn Ultra has 3X MORE Grease Cleaning Power per drop so that you can get through more dishes with less.
The Dawn Non-Scratch Scrubber Sponge has a scrubber side that easily takes off grease and baked-on messes, while the absorbent cellulose side is gentle yet mighty to get dishes sparkling clean.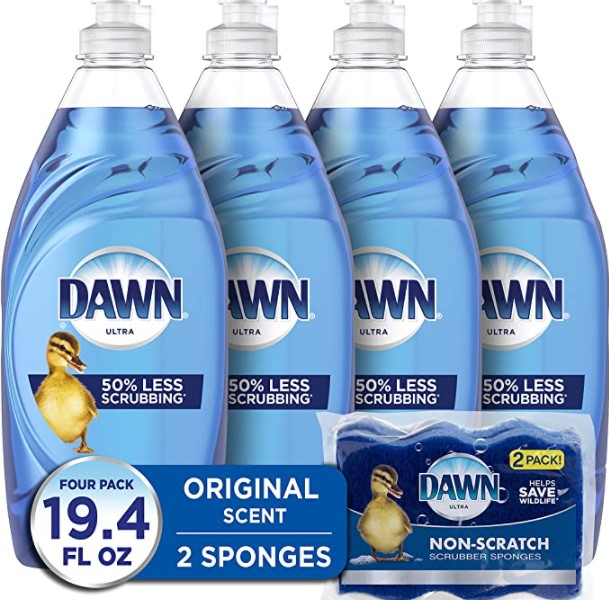 Features:
Liquid
Powerful Formula
Sponge
Perfect for dishwashing, pool maintenance, logistics, cleaning (ex. pond gutter grain), car/cloth washing, kitchen/bathroom using, working, painting, gardening, fishing, pet caring, daily chores, DIY, and any household duties.
They are made with highly flexible waterproof rubber for excellent comfort & agility. Anti-slip embossed palm for an excellent grip. 100g extra thickness latex gloves for better wear-resistant.
They smelled a bit rubbery and chemical-like when you first took them out of the packaging, but after airing them out, they will be fine.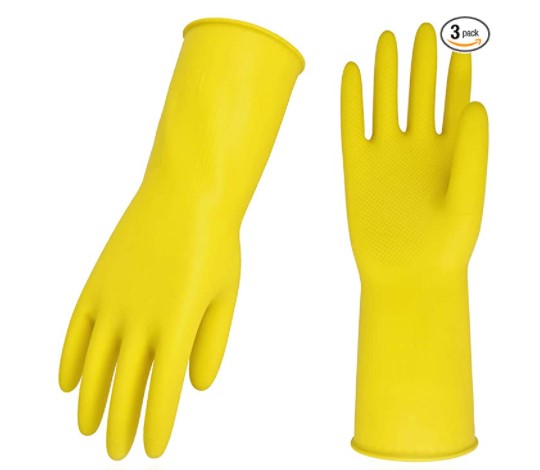 Features:
Rubbermaid Commercial Brute HDPE Heavy-Duty Bucket offers a 10-quart capacity. Has a heavy-duty thick wall construction.
A strong handle makes for easy transportation. Great for janitor's closets, factory environmental services, and more.
The molded-in spout makes pouring easy and accurate. 10.5 inches long by 10.5 inches wide by 10.25 inches high. 1.19 pounds.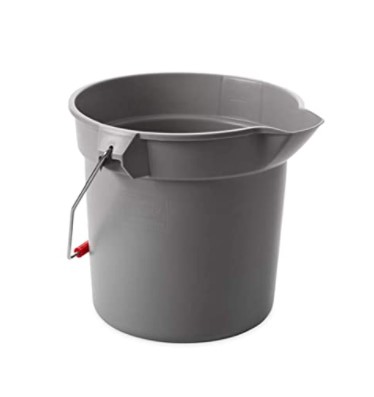 Features:
Heavy-Duty
Corrosive-Resistant
Round Bucket
Directions
Turn off the power. Turn off the power to your heating and air conditioning units.
Remove the vents. Some vents can be easily pulled off, but many require a screwdriver. Take your ducts off and put them to the side.
Remove the air duct covers and use a brush to clean the grates. Make sure to be thorough. Use a vacuum to clean out the ducts. A model with a hose will give you the most maneuverability.
Vacuum the ducts. Your ducts will likely be dirty, so take your vacuum's hose and let it run! Get as much dust and dirt as you can out of the vents. Don't go too deep into the ducts: there's no reason to clean out the entire duct at this stage, just the area near the vents.
Dust off your vents. Use a duster and get all the extra dust and dirt off your ducts. Preferably, dust off your vents inside a garbage bag so that the dust doesn't fly up into the air and up your nose.
Prepare some soapy water. Get some warm water and mix in some dish soap. Make sure the water has a good deal of lather in it: this way, you know the water has been sufficiently soaped.
Soak your vents for up to 15 minutes. This is where the actual cleaning happens. You want to soak your ducts in the tub or basin for 10 to 15 minutes. We wash the vents to eliminate any grease or gunk that allows dust to collect on the vents.
Dry your vents with a towel and put them back on. Putting your ducts on should be as simple as taking them off; however, ceiling vents might be a little annoying.
Replace your air filter and turn your system back on. Go to where your furnace is and replace the air filter. If you've been having a problem with dusty vents, you're likely dealing with a clogged filter. If you find the filter clear, you don't have to replace it.