Are you thinking about throwing a My Little Pony themed party for your child's birthday? This is a great idea,, especially for kids who are fans of My Little Pony, which remains a popular choice. Since this would be a special time for your child, you certainly want to make it a memorable time. This is the reason why we'll be sharing with you different My Little Pony party decorating ideas.
Choosing a party theme that suits your event and little guests does need some consideration. IF you have chosen to go with the My Little Pony theme, you'll need My Little Pony swirl decorations, paper garlands, streamers, fluffy decorations, and paper lanterns; to give you an idea. You want to include the theme in every detail possible in a few words.
With tons of creative ideas out there, it might seem overwhelming knowing exactly how to put everything together. Do not worry, not yet. Continue reading as we share with you some of the best My Little Pony party decorating ideas so you can be inspired to throw the most fantastic party for your little one. If you are doing a birthday party for your older one or even grown-ups these Mexico Themed Party Ideas are easy, and you'll find everything you need anywhere.
My Little Pony Party Decorating Ideas FAQ
What are good My Little Pony party favors?
Friendship bracelets are always a hit. Each child makes a bracelet for another. The ponies are all about friendship, after all.
Temporary tattoos: The fun begins when the kids arrive and receive temporary tattoos in My Little Pony cutie themes. Ask each child if they have a favorite pony, and apply a temporary cutie tattoo associated with that pony to their cheek or the back of their hand.
Are there any My Little Pony party games/entertainment?
True or False Game
Remind the children that there's a pony who models honesty: Applejack. Then give each one two index cards.
One card will have a big T written on it, and the other will have an F.
Each child will say something they think is true about a pony, and the others will hold up cards showing if they believe the statement is true or false.
Each correct guess wins the player a point. Whoever has the most points at the end of the game wins.
My Little Pony Scavenger Hunt
Place small plastic ponies in easy hiding places around the house or yard. Send the birthday party guests to find the lost ponies.
Celebrate finding all the lost ponies with a snack and a drink.
Pony, Pony Horse
This is a My Little Pony version of the old Duck, Duck Goose game.
Ask the kids to sit in a circle. One child will be "It."
The child who's "It" must walk around the circle, tapping each of the others on the head and saying "Pony, Pony" until she or he suddenly taps a child and says "Horse!"
"It" then runs around the circle. The Horse gets up, chases after them, and tries to catch them before they manage to sit where the Horse is sitting.
When the child who's "It" wiggles into the space where the Horse was, the Horse now becomes "It." This game can be as short as two rounds or as long as the kids aren't bored with it.
Crafts
Lead the kids to a coloring station. Children up to age six will enjoy coloring My Little Pony coloring pages.
There are dozens of printable coloring pages available online for free.
When the children have finished coloring, move them on to the next stage.
My Little Pony Party Decorating Ideas
#1 Crepe streamers rainbows
Hanging streamers with double-sided masking tape is a snap. You can also use removable hooks, dowels, and zip/cable ties to create unique looks.
To twist the streamers, tape up one end, turn the streamer, and attach the other side.
Hang streamers on the wall or window and twist them, then add balloons at the top for birthday decorations.
Each roll is made of thick, strong crepe textile paper. No flimsy paper streamers that rip or tear during your party.
Extra-wide streamers create a more colorful party environment than cheap stringy streamers. Each pack is double-counted to guarantee six beautiful colors: red, orange, yellow, green, blue, and purple.
Create a giant rainbow that the kids will love! The decoration possibilities are endless.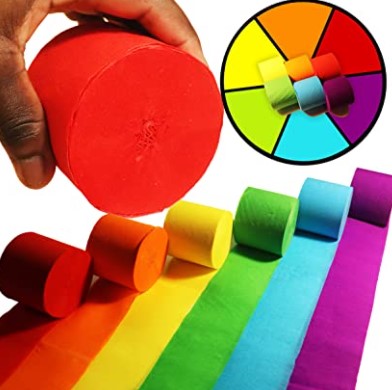 Features:
Crepe Tissue
Paper Rolls
Multicolor
#2 Photo Booth Backdrop
You can create a colorful backdrop using plastic tablecloths. All you need are budget plastic tablecloths.
The party backdrop can be prepared the day before the party, saving you extra time to concentrate on completing other party needs.
You'll need about one table cloth per foot of backdrop, so measure out your space in advance to figure out how many tablecloths to get.
Make sure to get tablecloths in different colors.
Hang them up on doors or walls as decorative backdrops, put them across the room as banners for Rainbow-themed Wedding Anniversary, babe Shower Birthday party decoration, great as a table cover for your kids' painting arts and crafts.
These tablecloths are spill-proof and stain resistant, great at picking up any messy spills from food, drinks, paint from arts and crafts sessions, and more; they are entirely disposable so roll up the tablecloth after an event and dispose of it.
The plastic tablecloths are made from a high-quality PE material that is naturally soft, smooth, and will protect your tables.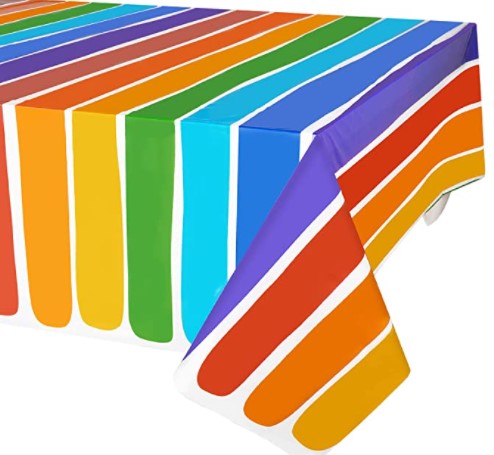 Features:
#3 Tissue paper clouds
Fold a piece of cardstock in half and draw one side of a cloud. Cut along the cloud shape on both sides of your fold to create a complete shadow.
Fold the rest of your card stock and trace and cut your cloud shape until you have 4-6 clouds with a fold in the middle. Open one cloud and lay flat. Alternatively, you can use tissue paper.
Each sheet of tissue paper measures 20″ Long by 20″ Wide. It's perfect for wrapping delicate gifts, adding cushioning to presents, and decorating fill in gift bags and baskets.
Purchase includes 100 sheets of white tissue paper. This classic white tissue paper adds the perfect accent to your gift any time of year and is an excellent gift-wrapping staple to have on hand.
All Hallmark gifting products are made with paper from well-managed forests with high-quality paper materials.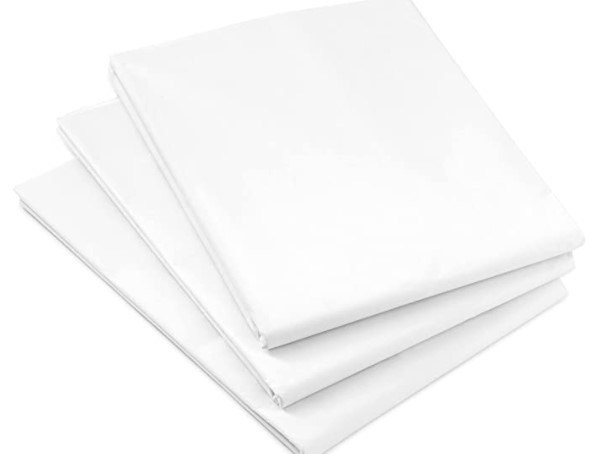 Features:
#4 My Little Pony centerpiece
Fill the party room with special touches like a colorful centerpiece. It's fun to create a marvelous meadow for your party ponies to prance around in.
You can look for free table decorations/party favors, centerpieces printables you can use for the party. Pinkie Pie, Rainbow Dash, and Apple Jack are favorites.
Alternatively, you can whip up a simple mason jar centerpiece to adorn the food table.
Brighten any party table with our My Little Pony table decorating kit! A large pop-out centerpiece design features favorite ponies, Pinkie Pie and Princess Celestia, trimmed with shiny foil.
Twilight Sparkle and Rainbow Dash leap out from two smaller centerpieces. Sprinkle the cardstock heart and flower confetti on the table for a magical touch.
The table decorating kit includes one large centerpiece (12-3/4 in.), two small centerpieces (7 in.), and 20 confetti pieces (2 in.). Makes the perfect addition to a My Little Pony-themed birthday celebration.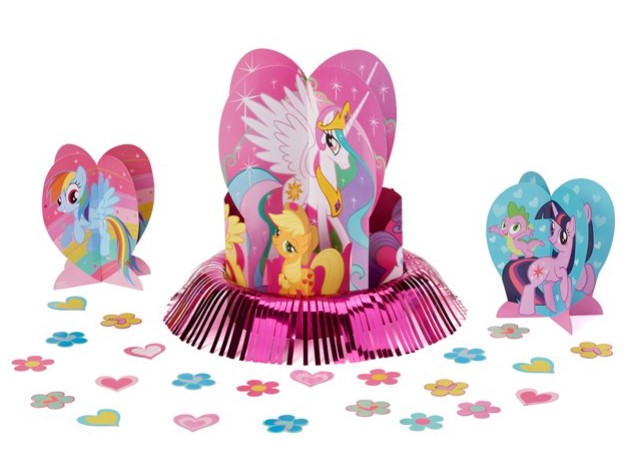 Features:
Easy to assemble
2 Small Centerpieces
20 Confetti Pieces
#5 Pinkie Pie Pinata
Pinkie Pie knows how to throw a rockin' ponypalooza party, so who better delight the birthday girl and her party peeps in pinata form?
Fill an adorable Pinkie Pie pinata (complete with balloon cutie mark!) with yummy treats and cool favors, then have the girls take turns pulling the strings to see which magic string releases all the goodies!
Fill the mini unicorn piñata with candies, mini toys, and confetti and break them open to surprise your fellow party-goers or your kids.
Made of brightly colored tissue paper and cardstock. A marker on the pinata tells you where to fill it up with candy.
This piñata is just to combine with other unicorn decorations for a whimsical birthday party.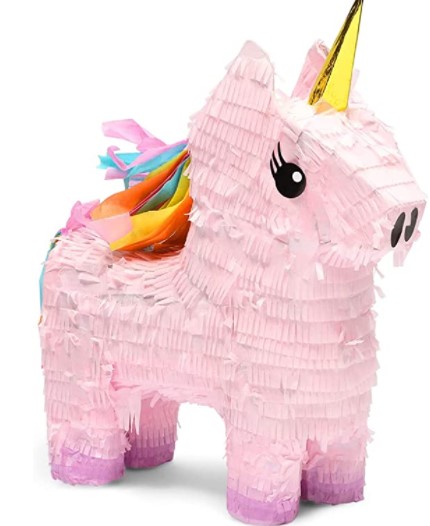 Features:
#6 My Little Pony place-settings
It's easy to create darling place settings for your Equestrian girls.
Start with a My Little Pony table cover, then pile on plates, napkins, and cups printed with the girls' fave ponies.
Make favors part of the fun and decor, wrap up cutlery bundles in wristbands, and sprinkle blowouts and other fun favors around the table.
High-quality PVC cards and latex balloons. Safe to use, non-toxic and odorless. Lovely My Little Pony patterns and bright colors, advanced machine printing.
Characterized by various adorable cake inserted cards in anime characters' shape, making your cake personalized. Easy to assemble, not time-consuming, enjoy the fun with your kids.
My Little Pony banner can be decorated on walls, windows, or halls, and inserted cards used as cake decorations. A memorable party experience for your kids or families.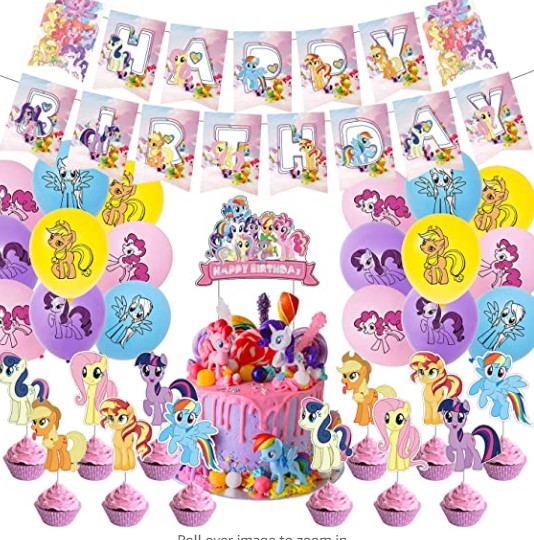 Features:
#7 Create a rainbow balloon arch
Make sure you add a punch of pony power to the party with a balloon arch that looks straight out of Rainbow Falls.
This can serve as the main focus of your party decorations by placing it where it's sure to be seen, like the favors table.
Including a value pack of 118pcs assorted color balloons, assorted in both colors and sizes, 5pcs for 5-inch balloons, and 6pcs balloons for 12-inch balloons for each color, they're red, orange, yellow, green, lime green, dark blue, light blue, purple and white.
Additional 5pcs for gold confetti balloons and 3pcs for 18-inch balloons; the pack also contains balloon garland strip, balloon tie tool, glue dot, tassel, and manual.
Rich, colorful and vibrant balloons are carefully chosen to make colorful rainbow balloon garland or rainbow balloon arch.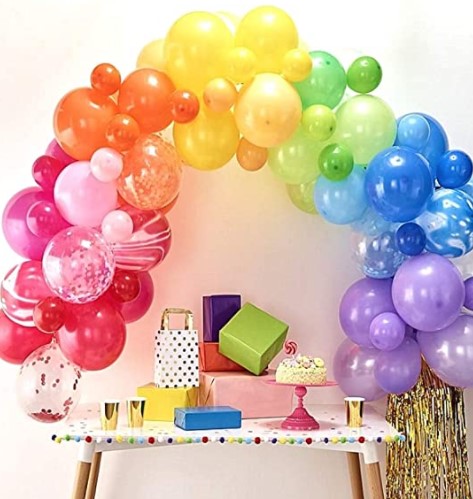 Features:
Additional Tips on My Little Pony Party Decorating Ideas
The birthday girl will feel like she just trotted out of Rarity's boutique in a birthday ensemble. Make it even more adorable with a frilly pink tutu and My Little Pony accessories like an award ribbon, wristband, and colorful hair extensions.
Get everyone excited for the magical birthday party with custom My Little Pony invitations. Pick your favorite birthday girl picture and add a personalized message to go over a pretty pony background.
Add a personalized touch to your thank you's with a custom My Little Pony thank you note.