Breaking the news of a pregnancy is certainly a big deal, even more, when you want to share the happy news with your husband. While some want to tell family and friends the very moment they find out they are expecting, others choose to wait a bit longer before making the big announcement. There are really no rules; however, you certainly want to make the moment a memorable one; this is the reason why we'll be sharing with you different pregnancy reveal to husband ideas.
Many people wait until after the first trimester is over to tell friends and acquaintances about the pregnancy, but your partner is not on that list. While you guys might share the moment of discovering your baby's gender together, you can also choose to learn it first on your own. Either way, why not make it fun and unforgettable, right!
You've probably seen or perhaps have been to gender reveal parties from close friends or even from your favorite celebrity. With tons of creative ideas out there, it might seem overwhelming knowing exactly how to share the big news with your better half. Continue reading as we share with you some of the best pregnancy reveal ideas so you can pick your favorite.
Pregnancy Reveal to Husband Ideas FAQ's
Do you tell your husband you're pregnant right away?
You might choose to tell early, knowing that you would need the loving support of family or friends in the grieving process if you had a pregnancy loss. You may wish to wait until the risk of miscarriage or ectopic pregnancy has passed before sharing the news of your pregnancy. There is no one correct answer.
How long should I wait to tell my husband I'm pregnant?
Many parents-to-be wait until the end of the first trimester, around week 13, to tell friends and family about their pregnancy. Several factors influence why people wait until this time to share the news. Still, the most important part of your decision should revolve around what makes you the most comfortable.
Is it OK to tell the family at 4 weeks?
There are no rules when you announce your pregnancy. Some women wait until they're 20 weeks; others can't wait for the home pregnancy test to dry! Social norms can change and adapt; if you want to unroll a banner on the bridge or put an announcement in the paper, it's up to you.
Can your husband know you're pregnant before you?
Couvade syndrome is a condition in which men with pregnant partners begin to experience pregnancy symptoms.
When should you reveal your baby's gender to your partner?
Once you discover the gender of your baby, you'll likely want to share the news and celebrate with your partner as soon as possible. If there's a particular occasion coming up, such as your partner's birthday, a vacation, or Father's Day, aligning your announcement with this special day can create an even more memorable surprise.
Pregnancy Reveal to Husband Ideas
Top 10 Ways To Tell Your Husband You're Pregnant
Idea #1 Confetti Shower
Nothing screams celebration louder than an unexpected burst of confetti. With gender reveal confetti cannons, you can surprise your husband or partner with the news of your baby's gender.
This idea is especially fun for couples who love pranks. Catch him when he least expects it, like when he comes home from work or when he gets out of the shower.
This confetti popper set includes four-piece large multicolored confetti party celebration cannons.
Confetti cannons filled with easy to clean biodegradable confetti and vibrantly colored. You are sure to wow friends and family and capture a fantastic moment with beautiful bright colors in the air.
You twisted the bottom of the cannons by your hands and aimed straight up; each popper shoots confetti up to 15-20 feet in the air.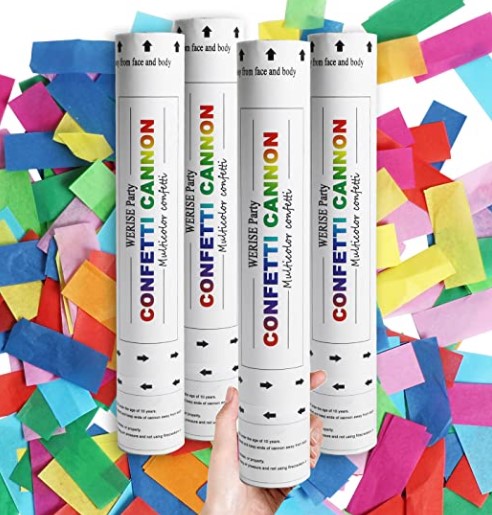 Features:
Idea #2 Scavenger Hunt
A scavenger hunt is an excellent idea if your hubby is the 'I like a challenge type. The excitement will only keep building up as the search takes place. This will totally make for an interactive and fun way to surprise your man with the ultimate treasure.
Place clues around your home or your neighborhood, with each clue leading to the location of the next clue.
As the hunt advances, lead your husband to a box containing a dad shirt and baby onesie, a surprise location filled with balloons, or a cake waiting to be sliced with the color of the baby's gender. You could also include a cake topper with something along the lines of "We're Having A Baby Boy/Girl!"
Idea #3 Gender Reveal Playlist
If your husband is the musical type, creating a thoughtful gender reveal playlist can make the moment even more magical. He can learn whether his new dance partner will be a little boy or a little girl.
For this reveal idea, you can tell your hubby you have a surprise for him, but you need a bit more time to get it ready.
Ask him to wait while you prepare the surprise, and while he waits, he can listen to this cool new playlist you made.
Then, leave the room, and see how long it takes for him to realize the surprise has already started.
Idea #4 Pick Daddy and Baby Matching Outfits
For an adorable and fun gender reveal idea your man can proudly wear around town, choose a dad shirt with an accompanying onesie.
Online shops like Etsy have a wide variety of adorable shirts and onesies to choose from, such as this Daddy's Little Girl combo or this matching set that officially bestows the title of Girl Dad on your father-to-be.
If you're expecting a little mister, consider matching outfits that proclaim Dad's Little Dude or Dad's Little Man for a stylish father and son look your partner won't want to take off.
Coolest gamer dad and baby matching outfit; level up and throw in a cool look in this player one player two father-son matching shirts; fun, cute father-son matching shirts to wear anytime, anywhere for you and your little mini-me gamer; for photoshoots, baby announcement or as an everyday matching outfit.
Quality graphic apparel player one player two gamer dad and baby matching outfits for dad and baby daddy and son matching outfits memorable fun novelty gift idea for father's day Christmas birthday.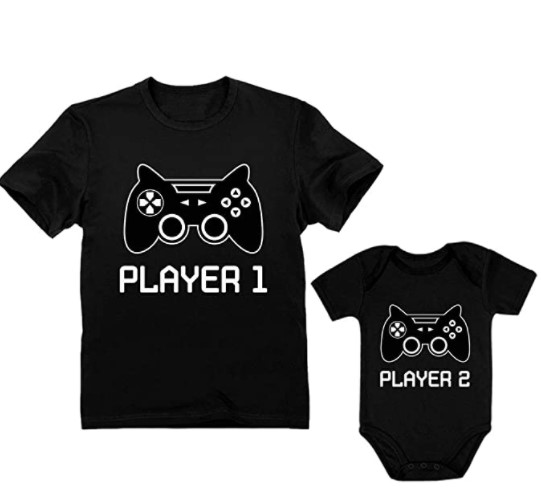 Features:
100% Cotton
Quality Graphic
Idea #5 Make it a family affair
If you are pregnant with your second child, have your firstborn wear a shirt or sign with a cute saying like 'Only child expiring' and surprise your partner with it.
You could also take a picture of your child and place it somewhere your husband will find it.
Another saying involving other children could be: Third time's a charm! No longer the youngest child, they've been promoted to the middle child. You can have your older children use their creativity and artistic ability with the gender reveal and make great use of that Arts and Crafts Tables for Toddlers you have or are thinking of buying.
This adorable Only Child to Big Sister Pregnancy Announcement shirt is absolutely perfect for your baby or toddler girl's outfit.
Make your little one's sibling announcement outfit memorable and fun with this Only Child to Big Sister Sibling Reveal T-Shirt for Baby and Toddler Girls Outfits.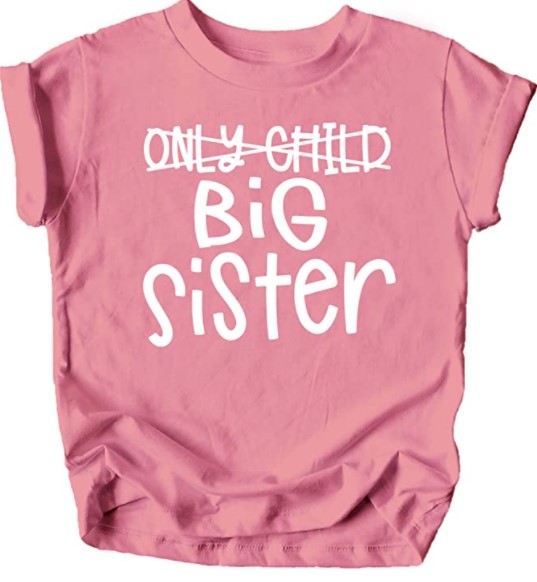 Features:
Professional Print
High Quality
Idea #6 Tummy sing
Grab a marker and write the big news on your tummy. You can be as creative as you want.
Keep it short and to the point with "I'm pregnant," or you can use a bit of humor with "10% loading" or any other baby-related puns.
If you want to play with numbers, find out how far along you are with our pregnancy calculator.
Idea #7 Fancy dinner
Make dinner reservations at a fancy restaurant and ask for an extra seat for the 'new addition' to the family. At the end of the dinner if your husband hasn't figured it out; you can ask the kitchen staff to write "Congratulations" in chocolate or fruit puree on your partner's dessert plate.
Idea #8 Show the pregnancy test
If you don't want to wait a lot of time, place your positive pregnancy test at a strategic place you know your partner will stumble across it.
If you use a digital pregnancy test instead of the ones with lines, make sure you take the test within eight hours of hiding it as the word "pregnant" disappears after 15-48 hours depending on the brand.
Idea #9 Foodie
Break the news to your husband using his favorite food. Buy your husband his favorite candy or treat and attach a cute printable note to the front of the package: "If I'm going to get fat, so are you."
Order a pizza for dinner and write "I'm Pregnant" on the inside of the lid; he won't be expecting that with his pepperoni pizza.
Buy him a case of his favorite beer or a bottle of his favorite wine and put a sign on it with your due date.
Idea #10 Get your pet to do it
If you have a fur baby, ask them for help. You can use your pet as an accessory for announcing your pregnancy.
Attach the pregnancy test on their collar or write a message on your pet's favorite toy.
You can also have your dog pose with your pregnancy letterboard.
100% Soft Spun Polyester to make it soft, this is ideal bandanas for dogs, breathable material, keeps your dog cool during those hot summer days.
Ideal for everyday wear, photo shot, parties, weddings or just making your pet look adorable with the pet bibs.
An essential gift to make your pets different, eye catchable cooler, more beautiful, or gentler than others. Make your dogs look adorable and fashionable.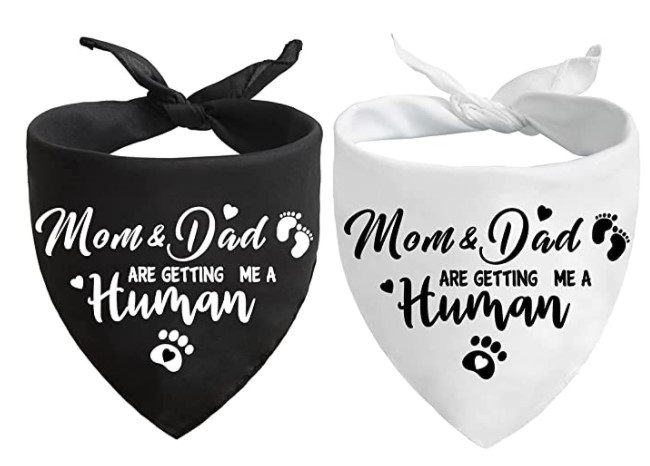 Features:
Polyester
Breathable Material