Are you thinking about getting your kid a ride-on toy? We hear you. If you are currently searching for a ride-on toy for your child, or perhaps you are looking to make a gift for your niece or nephew, it is important to keep it age-appropriate for their safety. Below we'll be sharing with you some of the hottest ride-on toys for 7-year-olds.
Ride-on toys are pretty popular toys amongst parents because as children play, they learn important lessons that are difficult to assimilate from the world of screens and books. Ride-on toys are more than just objects for keeping kids entertained. They are toys that teach balance and coordination, enhance motor skills, and encourage exercise.
With numerous options in the market, things may seem a bit confusing, especially if you are new to ride-on toys and have no idea what to look for in terms of features. Do not panic; before making an investment doing your due research is a sign that you are in the right direction. Keep scrolling down as we show you some of the best ride-on toys for 7-year-olds.
Ride on Toys for 7-Year-Olds FAQs
What is a ride-on toy?
Ride-on toys are any toys that kids of all shapes and sizes can ride on. Ride-on toys can range from bikes, scooters, cars, and so much more. They're lots of fun and helpful for gross motor skill development, balance, and coordination. Depending on the ride-on toy, they can be used indoors or out. We strongly suggest you check out our article on the Best Toddler Bike you may find.
Are ride-on toys good for development?
Riding toys provide important physical and emotional development experiences when your space is well set up. Young children develop various skills and derive many health benefits from riding toys. Stand-up riders help kindergartners build coordination and balance.
What age are ride-on toys for?
It's not recommended to buy toddler ride-on toys for children ten months and younger. Usually, kids have not developed balance enough to help them sit up. This can make ride-on toys dangerous due to the risk of falling off.
Can a 7-year-old ride a Power Wheels?
There are power wheels with a maximum speed of 8MPH and are suitable for kids above 10-years old. A toy vehicle comes with multiple speed levels, and some cars have an option to lock out the higher speed levels.
What is the biggest ride-on toy for kids?
The original 24-Volt Super Car XXL ride-on is an electric car designed for older kids! With a top speed of around 10 MPH, that's three times faster than your average ride-on car! This two-seater has it all, from working headlights & brake lights to functioning doors.
What age is 12V for?
In terms of age, most manufacturers recommend power wheels that use a 12V system for kids aged 4-7 years.
What are some of the benefits of ride-on toys?
Improves gross motor skills: Your child uses their arms and legs to push, pull, pedal, and kick. Just like riding a kid's bike, they learn how to control/her body movements. They also learn to steer, grasp and grip.
Encourages imagination: To you, the ride-on car can just be seen as another ride-on toy, but to your child, it could be something more! A spaceship, firetruck, or even the batmobile.
Following rules: By getting creative and creating a mini road with signs and boundaries, you help encourage your child to be responsible and follow basic instructions.
Improves spatial awareness: Ride-on toys can have a significant impact on improving their spatial awareness. Kids learn their location in relation to their surroundings as they move around.
Gets them outdoors: By giving your child a ride-on car or ride-on toy. Having your kids play outdoors allows them to absorb a healthy amount of Vitamin D.
Increases physical activity: While your kids push and kick around on their ride-on toy, they're able to get a little workout. The more they play around, the more they get those legs moving.
Builds self-confidence: As kids choose how and where they maneuver the ride-on car, they can make decisions by themselves, thus building their self-confidence.
What to look for when choosing a ride-on toy?
Styles and Developmental Needs
Ride-on toys can be age-appropriate for every age and stage. Most follow this progression:
Push toys: Parents push the kids on the ride-on
Foot to Floor: Using their feet, children move the vehicle (and themselves) forward
Pedal Power: A more advanced stage, kids use pedals to propel forward
Motorized: Made for older kids that can handle this more advanced toy
Safety
You will want to check out what kind of safety you get with the model, whether a kid's jeep or two-seater power wheels.
Steering Controls
The remote control rides on the car you choose should be good in overall steering. The steering should be simple enough for the kid to comprehend. No need to have a model that would be hard to use overall.
Indoors Vs. Outdoors
Some toys, especially those made for younger kids, are best used indoors, while others are only appropriate for the outdoors. Choose what's best for your child's age and stage as well as your space. If you have the backyard or neighborhood space to accommodate an outdoor ride-on toy, that is the best option.
Durability
Kids grow quickly. Check the age range, ask friends, and read reviews of the ride-on toy you're considering buying. Some are big and expensive, so be sure your kid can use them for a while.
Motor Quality
You have to consider the motor quality of any ride-on for 7-year-olds. This is because the motor will determine just how good the toy can be. For a weak engine, you can always expect that it will break easily.
Maintenance
You also want to get kids electric cars that do not need regular maintenance all the time. If you have to do some repairs, check to see if the brand has a service center around.
Battery
Since the best battery-powered ride-on toys for 7-years-olds need a battery, it is then crucial to get a model that can work great and deliver on good performance always. You will be comfortable owning one that comes with battery performance. The battery should last long enough to help the kid have more fun outdoors on it.
What type of ride-on toy is best for 7-year-olds?
Sleds and Wagons: Just as the names suggest, you will have the siblings carrying each other on the sleds and wagons and even pulling. They will often take turns to pull or push the sleds and wagons.
Pedal Toys: These toys are powered by pedals. The kid will use the pedals for moving the toys from one place to another. The model is also good when it comes to steering.
Motorized Vehicles: It can get children's motorized cars, trucks, planes, and several other vehicles. You are always going to have a great time when it comes to owning one right now.
Scooter and Bicycles: Scooters for kids along with bicycles are also available. They will mostly come in different sizes based on the age of the children. Depending on the toy, a bit of training is needed to help the kid use it.
Top Ride on Toys for 7-Year-Olds
Kart is solidly built; kids have around 7 hrs of time on them and rode them for at least three days before recharging the batteries.
It comes with a keyed switch that allows parents to set the maximum speed and remove the key, so the kids run at a safe speed.
They have more torque than a similar size gas-powered kart, and because they are electric, they have a reverse switch with no complex gearing or transmission.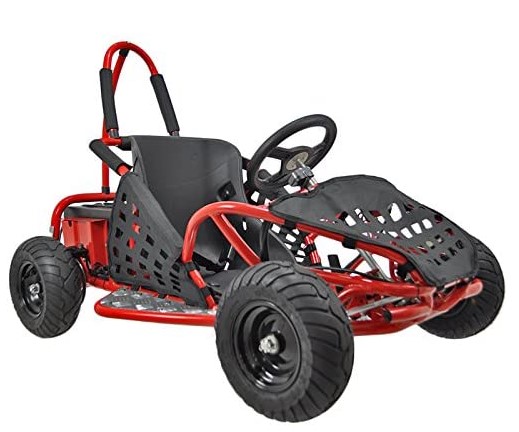 Features:
Alloy Steel
1000 Watt Brushless Motor
Disc Brake
On this sit-down scooter, your child will be smooth sailing across playgrounds and sidewalks. The EzyRoller Ride On Classic provides hours of fun for anyone. It doesn't matter if you are 4 or 14…this ultimate riding machine is guaranteed to be a blast.
Not only will you be riding in style, but you will also be riding in comfort. Just sit back and enjoy the ride. The EzyRoller Ride On Classic has a comfortable seat removing strain and pressure from your back.
The EzyRoller Ride On Classic has a foot bar allowing your child to get this racing machine moving with easy alternating leg movement on the foot bar.
Features:
Hybrid Bike, Cruiser Bike
Training Wheel, No-pedal
4-14 Years
Yvolution is the original flicker company that has become the standard by which all self-propelled scooters are measured.
The Flicker A1 is our iconic scooter designed for drifting, carving, and freestyle riding. On the Y Fliker A1, they move their weight from side to side; without ever putting their feet on the ground to speed up, and the frame propels them forward.
This wiggle scooter is ideal for smooth drifting and freestyle carving. The more they move, the faster they go and can instantly blast up their speed.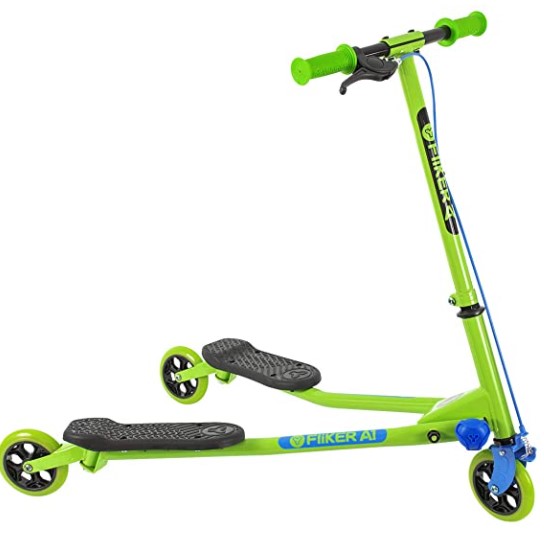 Features:
The John Deere Ground Loader travels at two speeds: 2 1/2 mph and 4 1/2 mph, plus reverse. Parents will love the second gear lockout feature that keeps little ones from going too fast.
The accelerator functions as a brake once the foot is lifted off the pedal. An included 12-volt battery and charger helps keep the fun going.
Children can help around the yard or carry toys in the large loader that is easy to use and engage. High traction wheels let the Ground Loader travel over different terrains, including grass, dirt, gravel, and concrete.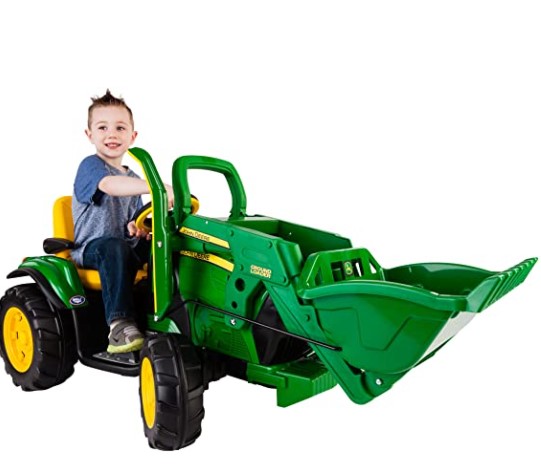 Features:
High Traction Wheels
Accelerator Pedal
Adjustable Seat
Ultimate Pedal Power Go Kart for the streets of Gotham. Batmobile features a sturdy steel tube frame with low-profile rubber wheels a forward & reverse sprocket with an adjustable seat.
Perfect Go Kart for crime fighters everywhere. They are designed for little heroes aged four and over. Its low weight and sporty design make it a truly fun mobile.
As well as training their strength, stamina, and reactions, this go-kart is also a fun way for children to learn their first traffic regulations and even parallel parking.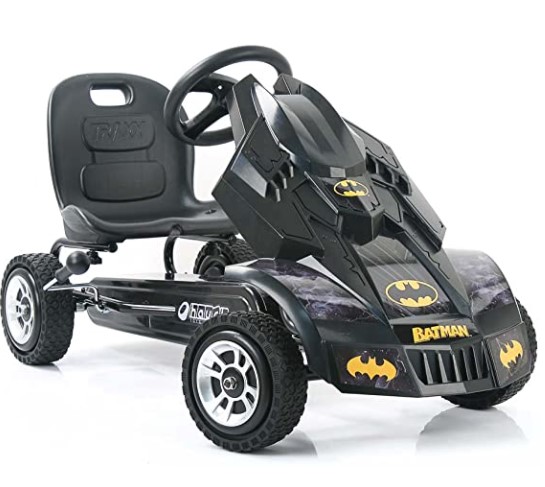 Features:
Race-Styled Pedals
Rubber Wheels
Adjustable Bucket Seat
The electric-powered ride fun is elevated to the next level with the blue LEDs that light up each time you twist the throttle.
The 100-watt chain-driven motor provides speeds up to 10 mph (16 km/h), just enough speed to thrill riders age eight and up.
Razor E100 Glow features intuitive twist-grip acceleration control and a hand-operated brake that help younger riders to build confidence in this electric-powered ride.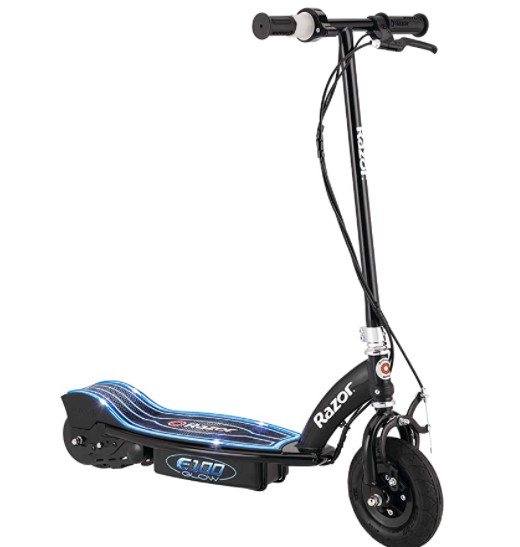 Features:
Alloy Steel
Blue LEDs
Rechargeable 24V
This classy skateboard in stylish green will be ideal for a kid ready to progress with skateboards.
It has 3-inch wide aluminum trucks, and 59mm 78A urethane cored super smooth wheels. Speed is increased with the high-speed precision stainless steel bearings, which means this board is ready for action.
The maximum weight capacity is 198 pounds. Adults and children alike can use the board.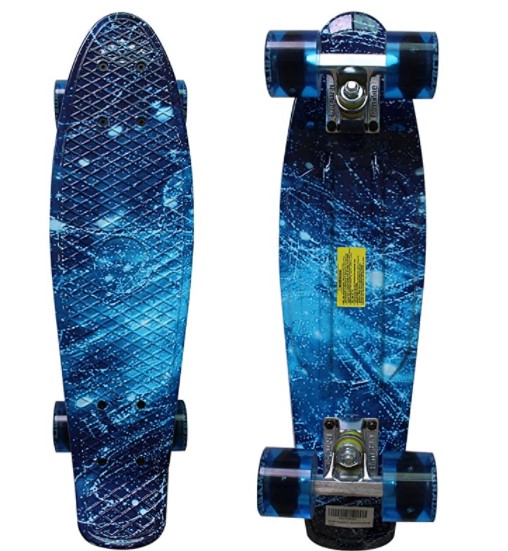 Features:
Aluminum, Plastic
Smooth Bearing
PU Wheels