Thinking about throwing a Mexican-themed party? Reasons to celebrate are many, and do we even need one? Not really! Whether you are putting together a theme party for a friend or yourself, you certainly want to make it a memorable time, and the Mexico theme screams just that. This is the reason why we'll be sharing with you different Mexico-themed party ideas.
However, choosing a party theme that suits your event and guests does need some consideration. What theme is most likely to resonate with your crowd and suit the type of event you're hosting? Luckily a Mexican fiesta theme works for all types of parties and is especially suitable in the summer months.
You've probably witnessed or perhaps been to a Mexico-themed party in the past, maybe from a close friend or even from your favorite celebrity. With tons of creative ideas out there, it might seem overwhelming knowing exactly how to organize it. Continue reading as we share with you some of the best Mexico-themed party ideas so you can be inspired to throw the most fantastic party.
Mexico Themed Party Ideas FAQs
What is a Mexican-themed party called?
The Fiesta Party is a colorful theme that will give life to any Mexican-themed party. You will be a sensation among your guests with the Fiesta Party tableware and decorations.
What do Mexican parties do?
Besides lots of food and drink, many Mexican birthday parties are also celebrated with a piñata. The piñata is most often made of paper mache and is decorated to look like a particularly festive object or animal.
What are Mexican decorations called?
We find Papel Picado, Mexican Paper Cuts, and Paper Decorations among typical Mexican decorations.
These are brightly colored paper decorations called papel picado- this translates as paper cuts. They are used to celebrate birthdays, weddings, Day of the Dead, national holidays, and many other Mexican traditional celebrations.
The collection includes Mexican centerpieces, serape table runners, Mexican salt and pepper shakers, Mexican straw baskets, Loteria mantels, Mexican placemats and coasters, Mexican maracas, mini pinatas, and aprons.
How do you decorate for a Mexican party?
String colored or white lights along with Papel Picado, pennant, and/or flag banners. Add fairy lights to Corona and Patron bottles. Decorate with Mexican theme string lights, such as cactus, margaritas, cow skulls, chili peppers, parrots, pinatas & sugar skulls. Assemble Papel Picado luminaries; are just a few ways to make your Mexican-themed party genuinely Mexican.
What is the dress code for a fiesta?
Consider glamming it up with high-end Western wear or traditional Mexican Fiesta clothes. Start with turquoise jewelry and a long lacy or fringed dress. Add fringed leather accessories such as shoes, handbags, jewelry, and scarves for the perfect Fiesta look.
Tips for throwing a Mexcian themed party
Choose your venue. To keep in with your Mexican fiesta party, the best location would be outside, whether in your back garden or at your local park. Set up a tiny area, lay out a few picnic blankets, hang up some colorful bunting with a selection of party food, and you've got yourself a fiesta.
Table decorations. Forget about traditional paper plates and napkins; when throwing a Fiesta, your tableware should be bursting with color, ready to bring your Mexicana theme to life. Serve your food on Avocado shaped paper plates with Nacho Napkins and Cactus shaped paper cups.
Fiesta decorations. No party is complete without having a few embellishments. Please start with the brightest of the ornaments; a multi-colored fringe curtain it's the perfect way to add a pop of color to your party. You can pair these alongside Mexican-style buntings, choose from 'Taco bout a party' or 'Fiesta Like There's No Manana.' You could hang up a few fun Mexican Fringe balloons.
Mexicana games. You can pick different games or combine them. If you want excellent family time, go for a Hoopla Cactus Party; if you're going to hang out with friends, a Tequila Skittles Game sounds about right. And don't forget the Avocado pinata.
Party food. Fan-favorite Mexican-style dishes you should serve at your party include; Nachos, Taco buffet, Fajitas, Tortillas with Salsa, and Guac.
Mexico Themed Party Ideas
Idea #1 Maracas Party Favor
Shake up your table settings with maracas on every plate. Make each place-setting colorful and fun with maracas. Because who doesn't love maracas, right! First, make your plates pop by stacking two brightly hued fiesta plates on top of a square black charger. Then have your friends use them to the beat of the conga.
Including 24pcs Mexican plastic maracas in 6 neon colors assortment, red, green, pink, blue, orange, and yellow.
Feature bright and colorful maracas; it's a great idea to put these small cute maracas on your Mexican party centerpiece table as decoration or hand these fiesta maracas out as party favors.
Add your Mexican fiesta party to a colorful and happy atmosphere when guests start to shake them.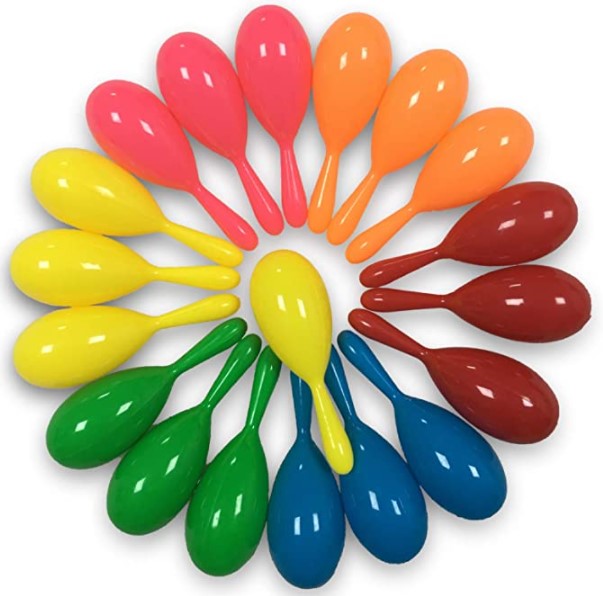 Features:
Idea #2 Fiesta Fun-wear
Find serapes and sombreros and get everyone dressed in fiesta fun wear. Add sombreros and fabric flowers for extra south-of-the-border charm. Everything can double as party props and wearable accessories for your guests or fun decorations for chairs and tables.
Idea #3 Warm Welcome
Give your guests a warm welcome with a colorful and traditional Mexican saying like 'Mi casa es su casa.' String up a metallic fiesta banner and a pretty garland of papel picado that will get your friends dancing through the front gate. You could pair it with a giant bull pinata at the front walk to set the scene for a day in Mexico.
Idea #4 Succulents and sand
If you aren't sure about your table display, you can't go wrong with this cute idea. Place layers of colorful sand in clear pedestal cups and stick in little desert plants like succulents and cacti. Place these cuties around the table for a dynamic display, then send them home with your amigos. They will remember the fun and enjoy your creativity.
Set of 5Pcs Lifelike Artificial Plants with Pot. MoonLa Artificial succulent plants look real enough and are more lifelike naturalistic than others in the market due to Advanced Materials.
Fake Succulents Perfect to display on your bookshelf, living room mantle, coffee table, dining room table, cabinet, counter space, desk, kitchen, window ledge, foyer, and any other place to bring more lifelike colors and organic style.
No need to maintain or care for them; neither will die nor fade, which remains just as fresh-looking and beautiful year after year.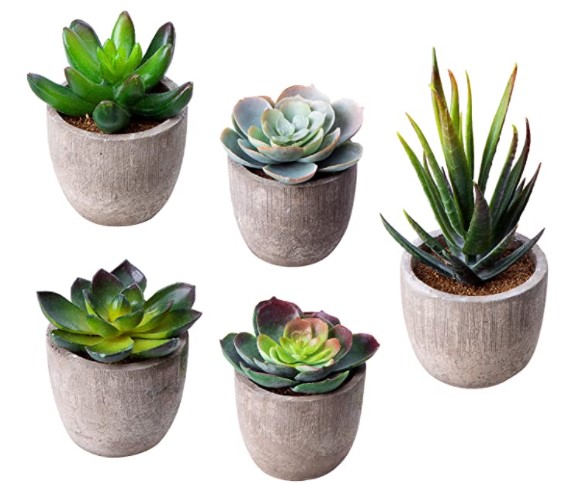 Features:
Idea #5 Fiesta Arch
A fiesta arch is a fantastic idea for you and your friends to take photos and look back at the fun times. It doubles as an excellent spot for your friends to salsa dance under! Hang up a banner printed with a custom message and surround it with fluffy decorations, pinatas, and giant paper fans. Guests will feel right at home standing under the rainbow of fiesta colors with margaritas in hand.
Paper fans arrive pre-folded and ready to hang. You unfold each one and secure it with the self-sealing sticker or use paperclips. The two methods work perfectly.
The banners and hanging swirls are also ready to hang. Paper pom-poms need to assemble. It fits all occasions – the colored accents lend themselves to glamorous party themes like baby showers, Cinco de Mayo, Mexico-themed parties, pool parties.
These are ideal when clustered together as a backdrop, hanging from a wall, a tree, a curtain, or a door. It's also a good idea to add color, texture, and glamour to your bedroom or pavilion.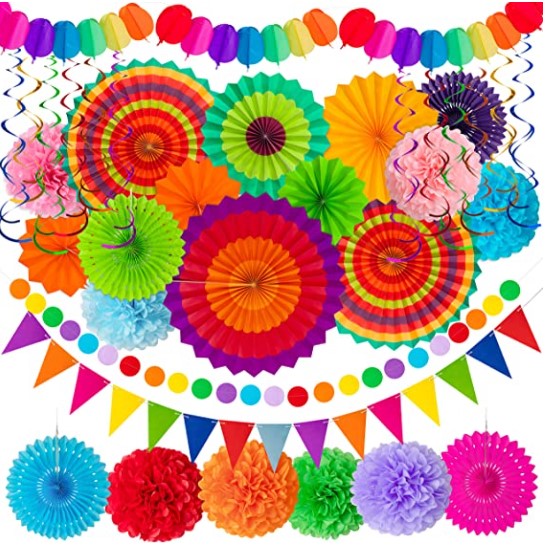 Features:
Idea #6 Cocktail Embellishments
Keep the fun going and the spirits up with little touches and embellishments in your drinks—skewer garnishes with Mexican flag toothpicks. You can also opt to fill margarita glasses with hot tamale cinnamon candies.
Idea #7 Light it up
Give your fiesta that extra touch with a beam of brilliance. String-colored or white lights along Papel Picado, pennant, and/or flag banners will make everyone want to dance the night away. Decorate with Mexican theme string lights, such as cactus, margaritas, cow skulls, chili peppers, parrots, pinatas & sugar skulls.
Camco Party Lights add a festive glow to your outdoor living area. With ten unique and colorful styles to choose from, you can show off your spunky style anywhere you travel.
They can also help you and your kids distinguish your trailer from the others at the end of the night. Each 8-foot strand contains ten lights and an end connector for hooking multiple strands together.
The strand is 120V with overload protection and UL approved for indoor and outdoor use. Set includes two spare bulbs and a spare fuse.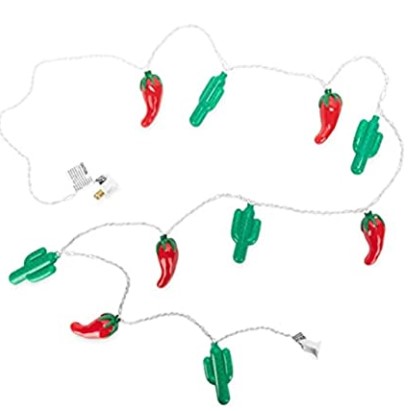 Features:
Red and Green
120 Volts
LED
If you are looking for an easy and fun party theme for your daughter, I had the best time with My Little Pony; check out our My Little Pony Party Decorating Ideas.