Was your baby or fury baby at it again? We hear you! If you have small children or just one of those days when your beloved pet left you a gift on the carpet while you were away, it is vital to know how to clean urine from your carpet correctly. This is precisely why we'll be sharing with you all the tips and tricks about how to clean urine from carpet.
Carpets are exposed to all kinds of substances daily, and well, accidents happen, especially when you have toddlers or a few family pets at home. So keep in mind it is just a matter of when it will happen. If you've dealt with carpet stains and odors in the past, you may be aware that urine is one of the tougher stains you'll have to tackle.
As you can tell by now or from experience, there's a right and wrong way to handle this kind of carpet stain, and knowing how to remove urine from the carpet will allow you to get back to your daily routine with ease. In this guide, you'll find out everything you need to know to ensure your carpet isn't something that takes your sleep away. Learn different and effective ways to clean urine from carpet.
How to Clean Urine from Carpet FAQs
Can salt help to remove urine stains from the carpet?
Pour salt on the stain to absorb the moisture and smell. Sprinkle salt on the urine to cover the stain in an even layer. If you notice the moisture leaking through the top of the salt pile, add more salt until the top layer stays dry. This is how you know you've absorbed as much of the urine as possible. Leave the salt on the stain for about 5-10 minutes, and then vacuum the salt up to remove it from the carpet.
Can I Use Vinegar to clean urine from the carpet?
Use white vinegar to lessen the look of a urine stain. White vinegar might not fix your stain completely; it should definitely help get some urine out. Either spray plain white vinegar onto the stain or mix white vinegar with baking soda to form a paste and apply this to the stain instead. Let the vinegar sit on the urine for about 5 minutes before carefully wiping it up.
Is hydrogen peroxide effective in removing urine from the carpet?
You can mix hydrogen peroxide with water for a more robust cleaner. Pour 0.5 cups of hydrogen peroxide into 2 cups of cool water. Combine these two ingredients and spray the mixture onto the stain, so the carpet is saturated. Use a clean cloth to blot the mix up to remove the urine stain.
What is the best urine remover?
An enzyme-based cleaning product that's safe on carpets it's recommended; many of them are already labeled as urine removers. Spray the urine stain thoroughly and let the enzyme cleaner sit for about 5 minutes before dabbing it up with paper towels or a rag.
It's best to spray enough enzyme cleaner onto the stain that you saturate the bottom layer of carpeting.
Enzyme cleaners come in the form of a ready-to-use spray and a powder that you mix with water.
If the stain is tough to remove, you can also call a professional to complete the enzyme cleaning service for you.
How to Clean Urine from Carpet
Urine Stain Removal
Before doing anything else, if the area is still wet, be sure to blot the urine stain with a clean towel. You can also use paper towels to help absorb any remaining urine. To prevent further absorption, the faster you do this, the better.
If you have access to shop-vac, use it to extract any remaining urine. If you don't have this tool, proceed to the next step.
Take one-quarter teaspoon of liquid dishwashing detergent and mix it with one cup of warm water. Be sure to specifically use this kind, not laundry detergent or dish soap; these may contain bleach or lanolin.
If you have a spray bottle, pour the solution into it. Spray the urine stain, aiming directly onto the carpet.
If you can extract the solution from the carpet using a shop-vac, this is an excellent next step. Otherwise, you can use a cotton cloth or paper towels after the key has set into the stain.
After rinsing the area with warm water, repeat steps 1-5, as long as you're seeing the urine stain gradually fade.
Last, take two tablespoons of ammonia and mix it into a cup of water. Rinse and repeat until the stain is no longer visible.
Stanley Wet / Dry Vacuum has a larger capacity of over 22 L, making small cleanup jobs a breeze for you as you don't have to empty the bucket frequently anymore.
Thanks to the four-peak HP motor, this vac offers powerful enough suction needed for almost any cleanup jobs in-vehicle, job-site, workshop, garage, basement, van, house, etc.
With this versatile vac, you can vacuum both wet liquid spills and dry debris, dust, saw, dirt, or blow leaves away.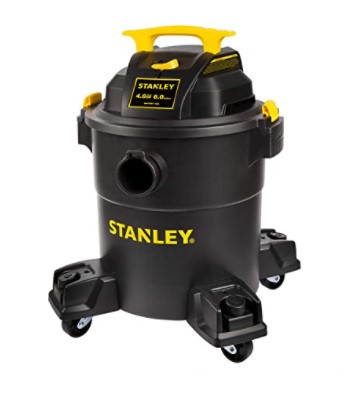 Features:
Versatile
Powerful
Large Capacity
Contains 3x grease cleaning power (cleaning ingredients per drop vs. Dawn Non-Concentrated). A new, more powerful formula helps you get through more dishes with less dishwashing.
It is liquid and phosphate-free. Dawn Ultra Dishwashing Liquid Dish Soap, with original scent.
No matter what you've got cooking in the kitchen, Dawn dishwashing liquid will leave your dishes squeaky clean every time.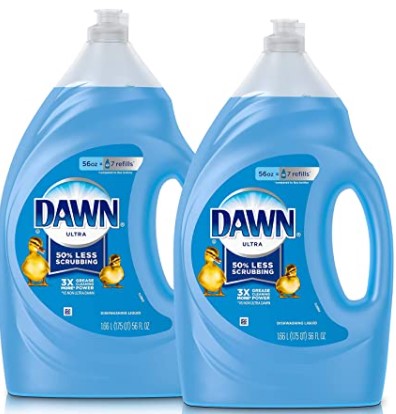 Features:
Original scent
Liquid
Phosphate-Free
Multipurpose cleaner for laundry and general household chores like cleaning kitchens, sinks, garbage disposals, and trash cans.
Use full strength, wait a few minutes and rinse with clear water. It can be used on cement floors. Best for cleaning kitchens, sinks, garbage disposals, and trash cans.
Use full strength, wait a few minutes, and rinse with clear water.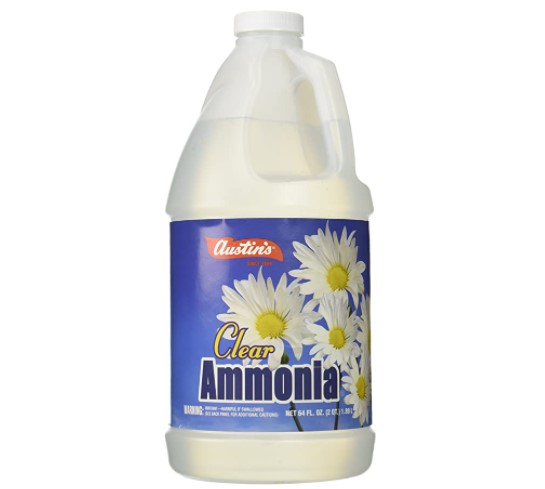 Features:
Dog Urine Removal
Soak up the urine stain using paper towels or a cotton cloth. Press firmly into the stain using an old shoe or something disposable. This will help absorb as much urine as possible from the carpet.
Mix a solution in a bowl (50% vinegar, 50% water) using white vinegar and water. You'll want to mix enough of the solution so that it can reach deep down into the carpet's fibers.
Pour the solution onto the urine stain. Using a scrubbing brush, work all of it deeply into the carpet, scrubbing vigorously. The vinegar should help to neutralize the ammonia in the urine.
Blot the urine stain using a paper towel, pressing firmly into it.
When that section of the carpet is dry, take one to two handfuls of baking soda and sprinkle it onto the stain.
Mix one-half cup of three percent hydrogen peroxide with a teaspoon of dishwashing detergent and apply to the stain. You can use the scrubbing brush again to clean the carpet thoroughly.
Once dry, vacuum the area.
Lucy's 5% Distilled White Vinegar is simply the right choice from cleaning to cooking. It offers the absence of preservatives, durable bottle design, secure seal, and Kosher Certification.
Spices up dipping sauces, develops flavor, makes homemade bread crusts golden brown, freshens wilted vegetables, substitutes for salt or buttermilk, and can be used for much more.
White vinegar for cleaning works fantastically. Whether it's simply to dress up a vinaigrette, enhance pastries, or clean the restaurant counters, it does it all.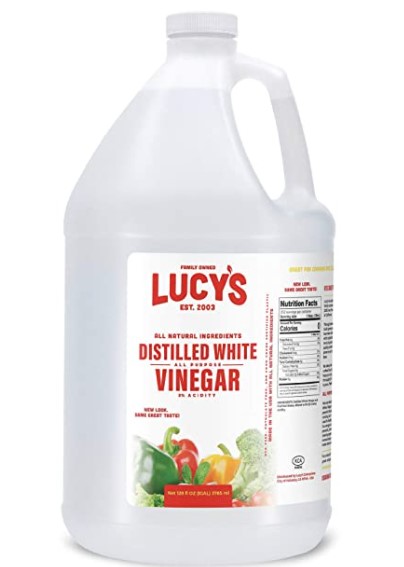 Features:
128 Fluid Ounce
Multipurpose
The Essential Values Peroxide Cleaner is the perfect solution for your everyday cleaning needs. It is an excellent cleaner for both residential and commercial environments.
There is no job too harsh or too dirty for Essential Values Peroxide Cleaner. Deeply clean any surface anywhere like kitchens, mirrors, and floors with ease.
Contains active hydrogen peroxide for effective removal of greasy soils, dirt, and brightening floors and grout lines.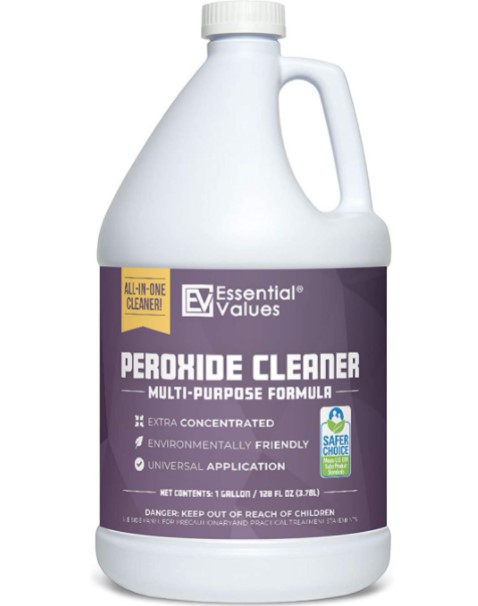 Features:
Multipurpose
Concentrated
Additional Tips on How to Clean Urine from Carpet
Remember always to do a spot removal test on a portion of carpet or upholstery that is usually not visible.
If the stain is already dry, don't worry. Just pour a little bit of warm water on it to help loosen it up before you work on removing it. Let the water sit for just a minute or two before absorbing it.
If you use a regular towel to soak up the urine, make sure you wash it well before using it again.
Remember to dab the stain instead of rubbing it aggressively when you remove the soap.